Science is making new discoveries about the gut-brain connection.
Scientists are discovering links between gut health, the gut microbiome, and the central nervous system that may have effects on our mood, behaviors, and thought processes. The health of the gut flora and its effect on mental and physical well-being is referred to as the gut-brain axis.
Research suggests that an imbalance of gut flora may negatively affect overall health and influence mood. Made up of over 100 million neurons, the digestive system has its own nervous system and is referred to as the "second brain." What you feel in your gut is often connected to what you feel in your brain. This connection supports the findings that digestive discomfort may impair both physical and psychological well-being.1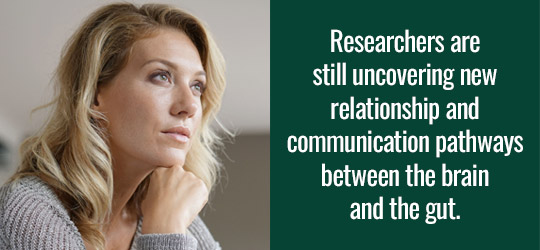 1. Healthy Aging: The Brain-Gut Connection. Johns Hopkins Medicine. The Johns Hopkins University. Available here. Accessed March 29, 2018.

©2018 The Dannon Company, Inc. All rights reserved.